eNewsletter
A key element to a dealership's success is keeping prospects and customers engaged. Thanks to a partnership with IMN, Who's Calling's eNewsletter service gives dealerships the ability to do just that with little to no effort on the dealership's part. The eNewsletter service for dealerships delivers a professional, fully managed eNewsletter that is branded for your dealership and packed full of interesting articles and timely promotions.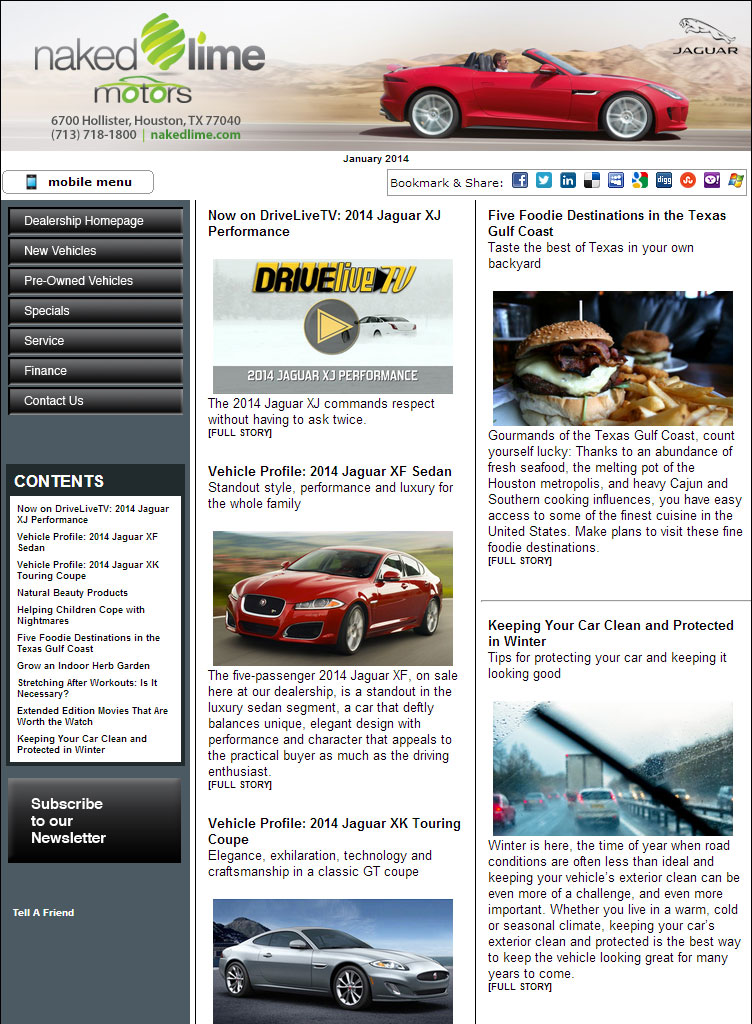 Whereas many dealerships send a single eNewsletter to their entire email database, Who's Calling's eNewsletter gives dealerships the option to send one unique eNewsletter to prospects and another to customers. People want to read content that is relevant to them, so by providing two separate eNewsletters, dealerships turn more prospects into customers and keep existing customers informed and engaged.
eNewsletters Benefits:
Turnkey service managed and produced for the dealership
Recurring, timely communication with little to no dealership effort
Dealer-focused and branded format
OEM-specific content as well as informative and interesting lifestyle articles
Live links to dealership's website and social media outlets
Option to download mobile version for smartphones
Link to searchable, SEO-friendly eNewsletter archive
Opt-out button [Historical averages show that fewer than one per 1,000 customers choose to opt out of receiving eNewsletters.]
All eNewsletters Include:
Sales and service offers
Links that enable recipients to make appointments for service and inquire about vehicles for sale
Optional: Video test drives with DriveLive TV
Opt-out tracking and complete analytics on recipient interests
Monthly Polk Cross-Sell report
Prospect eNewsletter
Industry statistics show that the closing ratio for prospects is one out of every four to five. As a result, dealerships have three to four times as many prospect email addresses as customer email addresses. With each lead costing the dealership $15 or more, the Prospect eNewsletter is an investment that helps the dealership stay top of mind with prospects throughout the buying cycle.
Customer eNewsletter
The Customer eNewsletter is designed to build loyalty with existing customers and increase revenue. Its goal is to drive traffic to the dealership's website and encourage customers to make service appointments or inquire about vehicles for sale.
When a dealership signs up for the Customer eNewsletter service, Who's Calling creates a marketing database of customer email addresses, ensuring that the Customer eNewsletter is sent to the right people at the right time. Who's Calling will then analyze the results of the Customer eNewsletter to create a quarterly Customer Rentention report specifically for the dealership.
Polk Cross-Sell Reports
Included with Prospect and Customer eNewsletters
Compares dealership performance to overall industry sales
Shows best-selling vehicle models at the dealership and in the market
Measures dealer sales against top competitor sales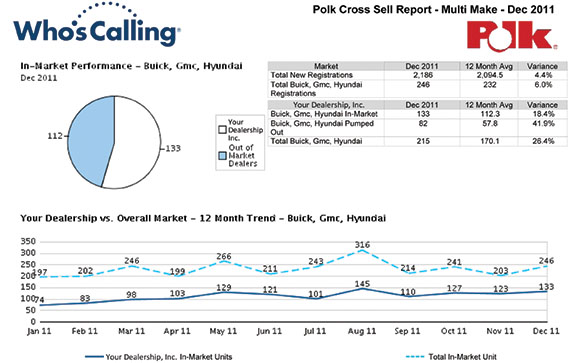 Contact Us
Interested in Who's Calling services? Fill in your information below, and we will contact you to discuss what we can do for you.
Request a Demo
To request a demo of our Inbound Call Tracking product, click here or call .
To speak with a member of our Sales Support team, please click the button below.